Ok, so Spring Break 2007 has come and gone. I took off a few days last week to enjoy it with the kids and we were so busy I need a break! lol. We're re-doing the kids' room. Went to IKEA at least a million times and yet we still aren't done. But, we're almost there. The kids got a bunk bed and we took the crib away. It was such a hard moment for me, we really don't have any babies in the house anymore. Anyway, Valerie has done extremely well without the crib. She sleeps in her little toddler bed all by herself, no getting up, nothing...I was so surprised!! She's such a firecracker when it comes to everything else, she must have known we needed *something* easy from her. lol. Here's a picture of her in her toddler bed for the first time.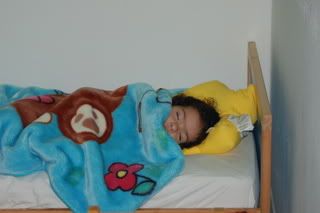 We went to the rodeo last week, we took Olivia and Seth to see Beyonce. It was such a fun concert, but we didn't get a chance to ride any of the carnival rides. Oh well, there's always next year. Here's Aunt Adrienne with Olivia and Seth all decked out.
Here are some candid shots of Valerie and Seth. Seth was so excited he got a snorkeling set as a birthday gift, he just had to try it out in the tub! And Valerie is goofing around in the barenaked room before we paint it.
As always, my vacation was over in the blink of an eye. I'm planning my next one very soon. lol.
--B